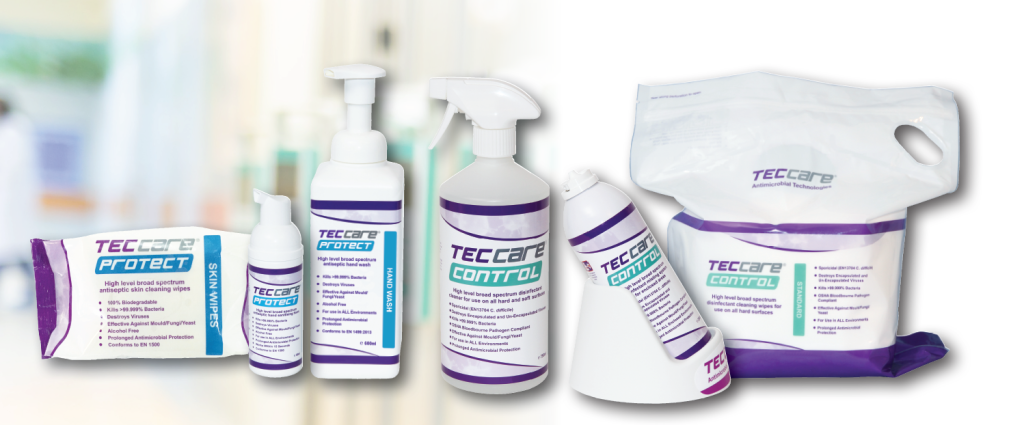 Give Your Ambulance An Effective Clean in Just 30 Minutes
Mangar Health have recently launched their new range of cleaning products developed by TecCare in the UK. The TecCare range includes new generation cleaning products, such as, TECcare PROTECT, Skin and Hand Moisturising Sanitiser and TECcare CONTROL, Air and Surface High-Level Broad-Spectrum Cleaner/Disinfectant.
The environment within an ambulance represents a high-risk area for the transfer of infection between patients and paramedics. Infection could be transferred between persons by touching all internal ambulance surfaces, contaminated equipment including invasive devices and directly transferred through hand to hand contact.
Here at Mangar Health we understand that there are many challenges to overcome whilst ensuring effective cleaning and disinfection of an ambulance. Due to factors including the confined space within the ambulance and the amount of equipment e.g. monitoring equipment, trolleys and mattresses etc in there, which needs cleaning as well.
There's also the issue of having limited spare time to do a routine clean before the ambulance is called out again.
Another thing to be aware of is the possibility that delicate medical devices can often easily be damaged by corrosive chemicals such as alcohol or chlorine based disinfectants.
We'd like to introduce you to our new range of cleaning products which will help you to overcome these challenges.
All our TecCare products offer safe and effective single-step cleaning and disinfection for all surfaces in any environment and unlike other strong cleaning agents is residue-free.
TECcare® CONTROL
TECcare® CONTROL kills microorganisms by simultaneously attacking multiple microbial structures and components which are all essential to life. The result is a rapid microbial kill of bacteria, viruses, fungi and spores.
TECcare® PROTECT
TECcare® PROTECT is a disinfectant/antiseptic technology. It's intended for use as a skin antiseptic and offers safe, effective, user-friendly hand and skin cleansing, disinfection and sanitation. The TECcare® PROTECT technology is based on the quaternary ammonium compound benzalkonium chloride (BAC) with an adjuvant effect that enhances its antimicrobial efficacy.
TECcare has undergone comprehensive testing at independent, accredited laboratories which has demonstrated that all the products offer a broad-spectrum high-level disinfection. The TecCare products are also already used by airlines and by the catering industry.
If you'd like more information regarding the TecCare products, please visit mangarhealth.com or call 0800 2800 485.