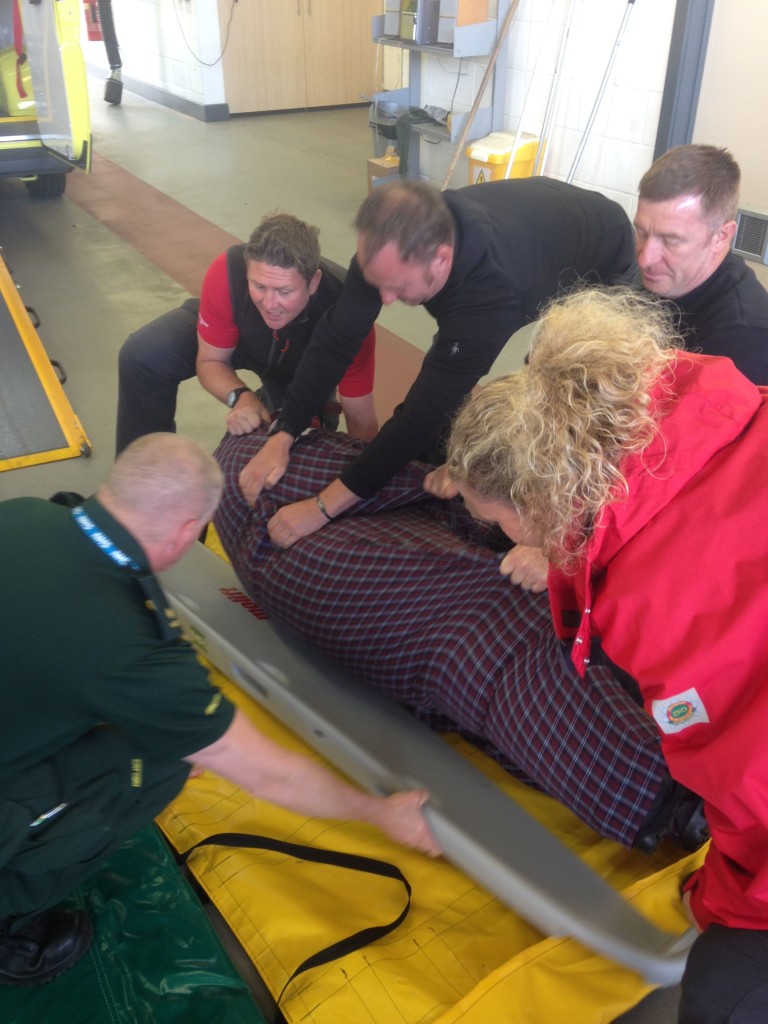 It's no secret that obesity amongst the UK population is on the rise – but did you know that obesity is one of the biggest strains on Government funding? According to the Department of Health, they confirmed that it spends more each year on the treatment of obesity related ill-health (a total of £5.1 billion in 2014/15) than the government does on "the police, fire service and judicial system combined".
This is a shocking statistic and one which poses an important question – what additional demands are being put on ambulance crews when it comes to treating plus-sized casualties?
Obesity and the ambulance service
A Freedom of Information Request from the BBC suggest that there has been a ten-fold increase in obesity-related admissions, increasing from 52,000 in 2006 to a hefty 520,000 in 2016.
Often, bariatric casualties are prisoners of their own bodies and with this in mind, they will often require assistance when it comes to hospital visits and emergencies. Ambulance crews are therefore seeing an increasing number of bariatric patients and a requirement to help move them safely.
It's clear that bariatrics require a big investment – For example, the North West Ambulance Service has a total of 8 bariatric vehicles, which have been used over 40,000 times in just four years. They have also spent £184,000 on specialist equipment since 2015.
These figures, when taken into context across the country soon mount up. But it's not just the cost of additional equipment which raises concerns, it also raises concerns for the health and safety of crew members who need to help manoeuvre much larger, heavier patients.
Training for a heavy-weight problem
With the prevalence of obesity increasing then, it's important that HART and general ambulance crews prepare plans for what would happen if they were faced with a bariatric casualty. Training with manikins is one of the best ways of preparing for this scenario.
Ruth Lee Ltd are well-known in the paramedic community and have supplied general handling and patient handling manikins for many years. We also have a range of bariatric manikins which have been designed to allow teams to prepare effective extrication methods which put personnel and patients at minimal risk of injury when moving and transporting heavier individuals.
Who is responsible?
Bariatric rescue was a big focus for Ruth Lee Ltd at the recent Emergency Services Show, one of the most interesting points we took away from the event following conversations with numerous fire and ambulance staff, was 'who is responsible for bariatrics?'
We heard many stories about bariatric rescues at the show, but the one which really struck a chord with us, was where a lady died because she was unable to be extricated quickly enough from a bath tub after a heart attack.
Ambulance and Fire crew alike expressed much sadness at this particular story – after all, you are both in the business of saving lives. It's clear that much more needs to be done to ensure that both paramedics and fire crews can respond quickly, confidently and effectively in the instance of emergency bariatric rescue.
Traditionally, the Fire and Rescue Service have worked with Ambulance staff to extricate bariatric patients. But many Hazardous Area Response Teams (HARTs) are now demonstrating increased capabilities, such as West Midlands Ambulance Trust, who have invested more than £400,000 to strengthen its HART over and above what is required nationally. This includes adding a seventh member to each of their teams which allows them to more effectively manage bariatric incidents using specialist equipment. It's clear then that there is a growing need for bariatric manikins too!
Prepare with effective training
At Ruth Lee Ltd  we want to make sure that we are supplying teams with the best possible training equipment. Our bariatric manikins come in 3 sizes, 90kg, 180kg and 260kg. The lighter manikin, whilst not 'strictly' a bariatric provides the bulk of an obese patient without excessive weight. Where easier training set up is required, we have also designed a Water-fillable Bariatric Suit which allows you to transform a Duty Manikin into a bariatric. Teams can place the bariatric in a confined space, such as a small bathroom, and then add the required weight using water. It's a simple process, which means that one trainer can set up the rescue scenario on their own with minimal lifting and handling risk. Once filled, the manikin will weigh up to 200kg letting your team create plans to effectively handle such a situation.
In order to further promote safe lifting and handling we can provide a range of bariatric carry sheets and a Bariatric Evacuation Kit which contains a Super Bariatric Carry Sheet, a standard Bariatric Carry Sheet, plus 2 Body Slings. Our Carry Sheet have been tested to destruction and are LOLER certified. All of these sheets have been designed to allow a minimum of 6 people to assist with lifting and are a useful addition to your ambulance equipment.