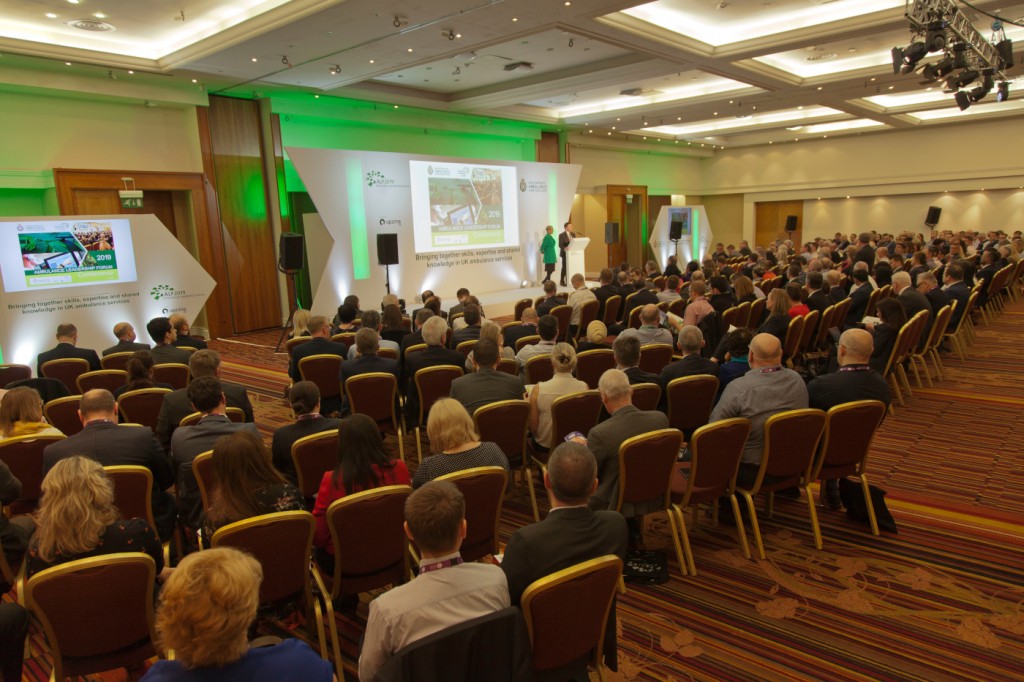 The Ambulance Leadership Forum (ALF 2020) will take place on 17 & 18 March 2020.
Hosted by the Association of Ambulance Chief Executives at the Jurys Inn, Hinckley Island, Nuneaton Leicestershire, ALF 2020 is shaping up to be another high quality event.
ALF 2020 promises to be bigger and better than ever, with a superb range of speakers and facilitators over two main days of conference.
Exploring themes relating to engagement across the STP/ICS landscape and integrated urgent care, speakers will look to stimulate discussion, provoke thought and share insights and experience. Can your workplace be improved? What role can the sector play in system leadership and how? Do you work for an employer of choice?
Day One
A first class line up of speakers already confirmed for Day One includes:
Baroness Dido Harding
The Chair of NHS Improvement will be our keynote speaker and open the conference. Expect to learn from Dido's vast experience on some of the solutions needed to overcome challenges facing the NHS – and ambulance services in particular. Reducing unwarranted variation is a goal but integrating to respond to local need is very much a reality – how do we manage the two?
Nigel Edwards
We are thrilled to welcome the Nuffield Trust Chief Executive to speak again at ALF.  Few others can share Nigel's insight into policy and strategies, whilst making sense of what the data really shows.
Bobby Pratap
Putting mental health front and centre we are delighted to that Bobby, Deputy Head of Mental Health at NHSE & I, is joining us at ALF for the first time.  He will discuss how the ambulance sector can get the best returns for mental health patients from the new Long Term Plan funding put into these vital services.
Chris Hopson
This year Chris, Chief Executive at NHS Providers, looks forward to briefing delegates on a strategic vision (being launched jointly with AACE) that will provide clear statements on where we feel ambulance services can make the best contributions within changing health structures.
For a second year, ALF will be chaired over the two days by AACE Council Chair and SCAS Chair Lena Samuels, who brings her extensive knowledge and understanding to proceedings – and will be ready to challenge any sweeping statements from the podium!
Day Two
A varied range of sessions on Day Two of ALF will include insights into quality improvement, organisational development, satellite technology, visibility for disability, 'safe space' conversations, the ambulance data set project, volunteering and falls, the joint ambulance improvement programme, rotational roles and how ambulance services can become employers of choice. More speaker and topics will be published over the coming weeks.
Organised and managed by the Association of Ambulance Chief Executives (AACE) this important event enables senior managers, suppliers and others with an interest in the effective management of ambulance services to join forces to share ideas and best practice in a supportive and high-profile environment.
Non-Executive Director (NED) Development Seminar
Preceding the opening of ALF, there will be a seminar focused on non-executive director roles and responsibilities. The evolving NHS landscape requires ambulance trust boards to remain current and informed, which isn't always easy given the pace of change.
The bespoke seminar will share learning from experts and provide insight into how best non-executive functions can effectively engage with and navigate the wider health and social care system. The seminar will be delivered by the Association of Ambulance Chief Executives in conjunction with The King's Fund, NHS Providers and the NHS Confederation.
The NED Development Seminar takes place on Mon 16 March, 14.00 – 17.30.
The ALF Awards Dinner
As part of ALF 2020 we will again come together to celebrate outstanding service from across the UK at the Awards Dinner on the evening of Tuesday 17 March.
Attendance at this popular event is included as part of the Conference Delegate Package and will be arranged, along with conference bookings, by your Trust Lead.
As always, the Awards Dinner will provide an excellent opportunity for Ambulance Leadership Forum attendees to applaud excellence, discuss developments from the last year, and network with colleagues.
However, most importantly, the evening will provide an opportunity for AACE and colleagues to recognise members of staff from across all UK ambulance services who have provided truly outstanding service, going above and beyond the call of duty in a variety of categories that represented the whole breadth of service delivery.
Research papers presentations – a call for Abstracts
AACE is pleased to announce that dedicated time will again be scheduled for the main stage presentation of research focused on ambulance service delivery and leadership. Following last year's success we expect high quality submissions and a close vote from the audience to select the winner for the £500 travel bursary.
International Roundtable of Community Paramedicine (IRCP 2020)
Directly following the ALF conference, AACE are delighted to host the IRCP annual meeting over Wednesday 18 and Thursday 19 March 2020.
A full agenda will be compiled though the normal IRCP channels.
The conference will be free to attend and will include refreshments and a working lunch on the Thursday.
The Venue – Hinckley Island Hotel
Hinckley Island is one of the most accessible and well-appointed conference venues in the Midlands. Nestled in the heart of Leicestershire and surrounded by beautiful countryside, the four-star hotel provides a great business base for the Ambulance Leadership Forum.
The hotel is just off the M1, M6 and M69 motorways, and is short drive to both Birmingham and East Midlands Airports.
For more details contact Steve Irving at AACE at steve.irving@aace.org.uk,