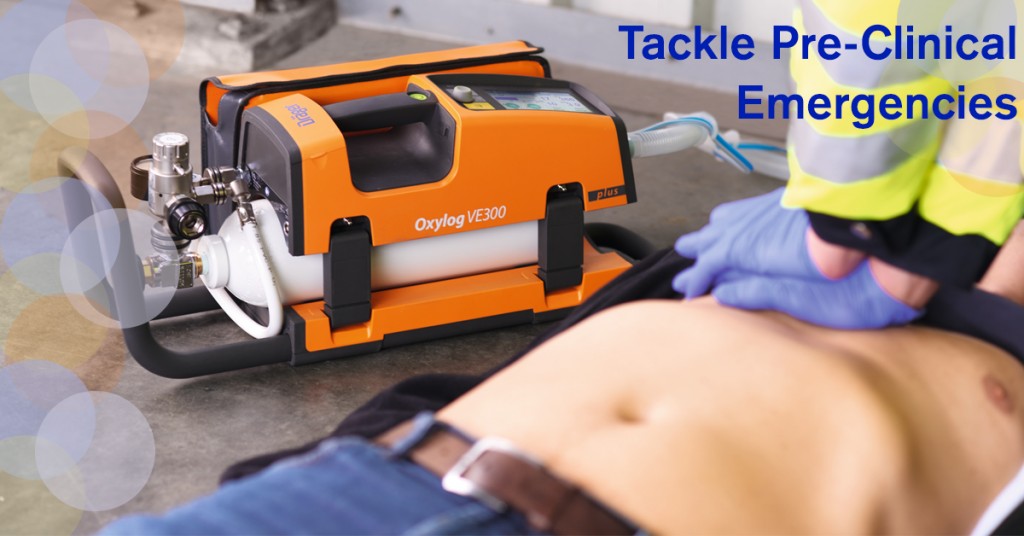 Built to face your challenges
Dräger Oxylog® VE300
We did not spare any effort – except yours
PREPARED TO TAKE ON ANY CHALLENGE
When it really matters, you should be able to concentrate only on one thing – your patient. This is why we have developed a portable emergency ventilator, which is designed to allow you to do just that: the Dräger Oxylog® VE300. Robust, ergonomical and simple to operate.
One device with many added values. However, there is one item we saved on: weight. Weighing a mere 3.6 kg the emergency ventilator is easy to hold. The result: we have made it 30% easier for you to handle compared to the previous model!
110 years after the initial serial production of an emergency ventilator – the Dräger Pulmotor – the Dräger Oxylog VE300 displays true innovation at its best.
TRULY A REVOLUTION
The new Oxylog® VE300 is more than just a new emergency ventilator. It combines all sorts of features that make it ideally suitable for first responders, as well as emergency ventilation of the patient during transport and in the hospital.
At your disposal are volume-controlled ventilation, non-invasive ventilation (NIV with CPAP) as well as spontaneous breathing and pressure support.
Switching to the CPR-mode requires only a single keystroke. And all presets automatically comply with the international ventilation standards according to ERC und AHA.* This makes your job easier.
Easy to carry, quick start for ventilation
Reliable even under extreme operating conditions (-20°C to +50°C)
Three step device start up takes less than 10 seconds
Device check takes less than a minute
Preset parameters for fast ventilation start
Replaceable and rechargeable battery for up to nine hours of operation
Low oxygen consumption thanks to DuroFlow technology*
Clear, simple-to-follow user guidance with moderate training time
Easily accessible documentation with Bluetooth® and USB interface: patient data, system test, screenshots
Wall mount permits flexible positioning
Practical extras available as an option: belt, stretcher mounting, accessory bag, battery charger
Ergonomic carrying handle directly above the device's centre of gravity
Visit us in Hall 5 Stand number F80 for a product demonstration