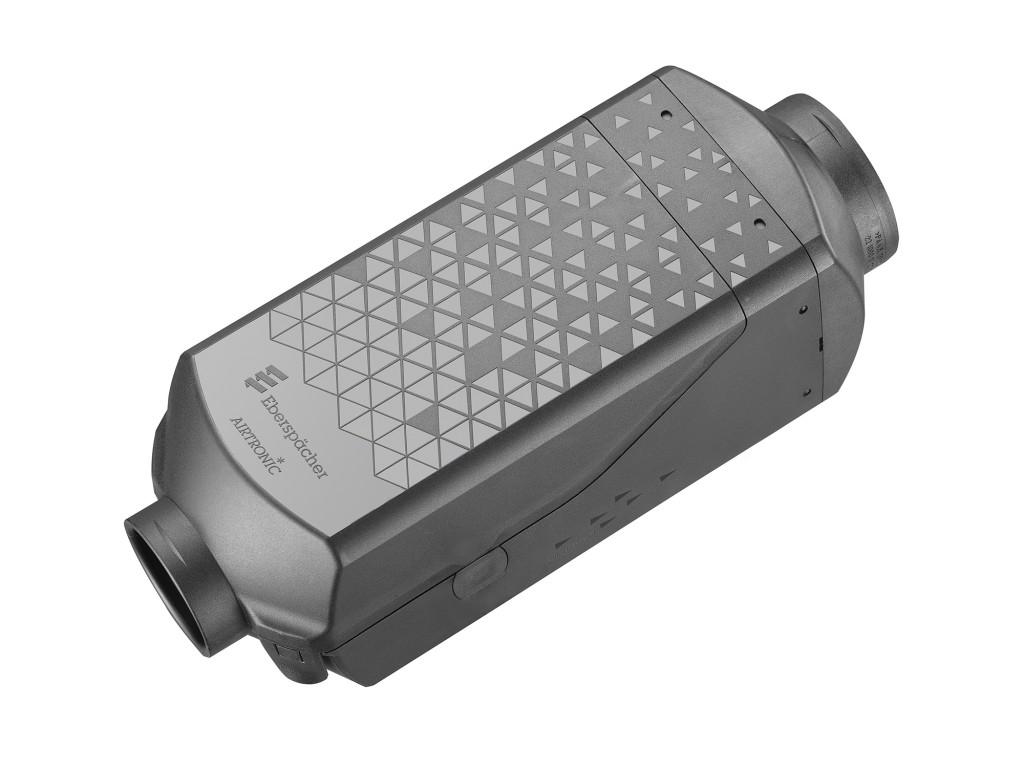 Esslingen (Germany), August 26, 2021 – In 2021 Eberspaecher will be rolling out the third-generation Airtronic. The new generation of air heaters is entirely newly developed and available across all performance classes (2 to 8 kW) for commercial and special vehicles. The product family will include four model variants in 12 versions and therefore, offer the right heating solutions for every demand. User-friendly operating elements ensure simple and flexible control of heaters.
For the third generation of the Airtronic, thermal management expert Eberspaecher is relaunching its proven fuel operated air heater family and raising it to a new technical level across all performance classes. Four model variants will cover deployment in many commercial and special vehicles. Whether in recreational vehicles, transporters, ambulances, trucks, boats, or in driver's cabs in the off-highway-sector: The all-rounder from Eberspaecher provides comfortable heat.
Features for functionality and comfort in a new design
All product variants come with the proven brushless motor for a longer service life as well as the stepless heat output control and the optimized metering pump for quiet operation – an advantage when traveling in a camper or during break times in a truck. The combustion chamber, which has been fully redesigned across all versions, gives greater flexibility in installing the heater in the vehicle. The new heat exchanger ensures better flow ratios within the heater itself and therefore, higher efficiency. The modified positioning of the temperature sensor has further improved the temperature control. Sensor-controlled sequences make the start-up phase even more efficient. The Airtronic 3 variants come with the electronic interfaces CAN (12/24V), LIN (12V), and S+ (12/24V). The further integrated automatic altitude adjustment makes the Airtronic 3 ideal for trips in the mountains: The integrated barometric pressure sensor optimizes consumption levels and enables automatic adjustment at altitudes of up to 5,500 meters, depending on the version. A newly designed exterior also sets the new air heater apart from its predecessors.
Four model variants in 12 versions
The third Airtronic generation comprises four model variants in a total of 12 versions: The Airtronic S3 (2 kW), the Airtronic M3 (4 kW), the Airtronic L3 (6 kW) and the Airtronic XL3 (8 kW). Thus, the product family meets all requirements, no matter the size of the vehicle or how cold the outside temperature. The Airtronic S3 and Airtronic M3 is available as a Diesel or gasoline version. For applications with longer air ducts, the Airtronic M3 Recreational is especially suitable, thanks to its increased air flow.
Suitable operating element for every application
Depending on requirements, the heaters of the Airtronic 3 product family are controlled with the appropriate element. These include EasyStart Pro: The pre-heater can be controlled easily and comfortably using the permanently installed operating element. The desired start time and heating duration can be set in advance with a timer. The display and an LED color ring around the control knob indicate the current function status. In Europe, digital control via EasyStart Web is also available: Using a digital device – for example a smartphone, Amazon's Alexa, or any other Internet-enabled device – the pre-heater can be operated no matter the range. The heater can also be integrated into preexisting vehicle systems via the various interfaces.
Airtronic 3 product family: Overview of performance classes and application areas:
Airtronic S3
Commercial

Airtronic M3

Airtronic L3
Commercial

Airtronic XL3 Commercial

Commercial

Recreational

Fuel type

Gasoline

Diesel

Gasoline

Diesel

Gasoline

Diesel

Gasoline

Diesel

Voltage
(in V)

12

12 / 24

12

12 / 24

12

12 / 24

12 / 24

24

Heating peformance (in kW)

1 – 2

0.85 – 2.2

1.3 – 4

1.05 – 4

1.3 – 4

1.05 – 4

1.5 – 6

2 – 7.6

Examples for application areas

Recreational vehicles
Boats
Driver´s cabin of trucks
Off-highway vehicles

Ambulances
Recreational vehicles
Driver´s cab
of trucks
Transporters

Applications with the need of higher air flow, e.g. recreational vehicles or boats

Transporters
Ambulance
Mini-/ Midi-Busses
Recreational vehicles

Big boats (e.g. sightseeing boats)
Cargo
Global Media Contact:
Anja Kaufer
Head of Corporate Communications
Eberspächer Group
Phone: +49 711 939-0250
press@eberspaecher.com
***
About Eberspaecher:
With approximately 10,000 employees at 80 locations worldwide, the Eberspaecher Group is one of the automotive industry's leading system developers and suppliers. The family business, headquartered in Esslingen am Neckar, stands for innovative solutions in exhaust technology, automotive electronics and thermal management for a broad range of vehicle types. In combustion or hybrid engines and in e-mobility, the components and systems from Eberspaecher ensure greater comfort, higher safety and a clean environment. Eberspaecher is paving the way for future technologies – mobile and stationary fuel cell applications, synthetic fuels as well as the use of hydrogen as an energy carrier. In 2020, the Group generated revenue of more than 4.9 billion euros.