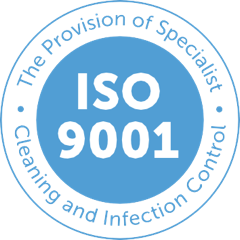 A new approach to IPC
Among the many pressures that ambulance operators face is how to ensure high levels of service availability while protecting patients from infections and sources of illness. This is the realm of cleaning and hygiene and processes must be highly effective, simple and fast due to the limited time available to maintain vehicles.
Ambulance operators, deep-clean and make-ready professionals need the right system in place for maintaining IPC compliance. ClearTrace's Total Hygiene System combines the tools and processes required to enable this to occur within regulatory frameworks.
ClearTrace's Total Hygiene Systems covers all aspects of maintaining your fleets from operating Make Ready Systems, Vehicle Preparation Systems, Daily and Deep Cleaning Services, Broad Spectrum Sanitisers, Bespoke Real-Time Tracking Systems for Cleaning and Auditing to ISO Certified Standards.
The majority of infections are spread by hand to hand contact or by touching a contaminated surface. The primary defence against infection involves a combination of hand hygiene and surface sanitisation. It follows that anything that breaks this sequence will help eliminate these sources of infections. ClearTrace offers a complete range of trusted formulations for use throughout emergency vehicle fleets.
Effective against pathogens in just 30 seconds, ClearTrace's SD50 Broad Spectrum Disinfectant is independently proven against Bacteria, Viruses and Spores and is only one of the specially formulated products which provides effective infection prevention. Used by ambulance services for daily and deep-clean operations, this disinfectant is effective against Norovirus, VRE, Influenza, MRSA, HIV, C. diff and many other pathogens.
The pressure to maintain the hygiene of emergency vehicles is vital, therefore the approach to IPC and hygiene management must be highly effective, simple and fast acting too, products are only as good as their application though, that's why ClearTrace's Total Hygiene System places significant focus on systems, training and supporting signage and documentation.
To ensure operators in this sector can be successful, interactive training is provided Free of Charge. These include, non-clinical IPC training for all staff and ambulance crews, step-by-step on-site vehicle deep cleaning to ISO Standards, product-in-use and COSHH awareness training. The flexibility of ClearTrace's approach not only mobilises an operators team in an efficient way but practically equips them with the fundamental knowledge to clean the emergency vehicle fleet effectively and within the required regulations.
Monitoring hygiene standards is a key element of ClearTrace's Total Hygiene System. Both ATP and swab testing is offered by ClearTrace's team of experts as part of their own on-site audits of an operator's fleet and Total Hygiene System. This provides an auditable system that demonstrates to the regulator that the operator has; a thorough and robust IPC system in place, is well managed and, microbial cleanliness is achieved and verified by an independent supplier.
Having the right systems in place for maintaining IPC compliance should not be about adding additional costs. ClearTrace recognise this and are committed to building real relationships and adding benefit as well as enhancing each operator's business and their IPC Systems and Protocols ultimately transforming relationships into long-term partnerships.
ClearTrace is extremely proud to be the IPC Provider to a number of high profile Ambulance Providers, these include the NHS direct, St. John's Ambulance, Isle of Man Ambulance Service, HATS, BEARS, Medi 4 Ambulance Service, Kent Central Ambulance Service.
If you'd like to discuss this article or would like to take advantage of the ClearTrace Total Hygiene System please don't hesitate to get in touch with one of the team at ClearTrace or make contact with:
James Staniland
www.ClearTrace.co.uk or Tel: 01524 220 225
James.Staniland@ClearTrace.co.uk