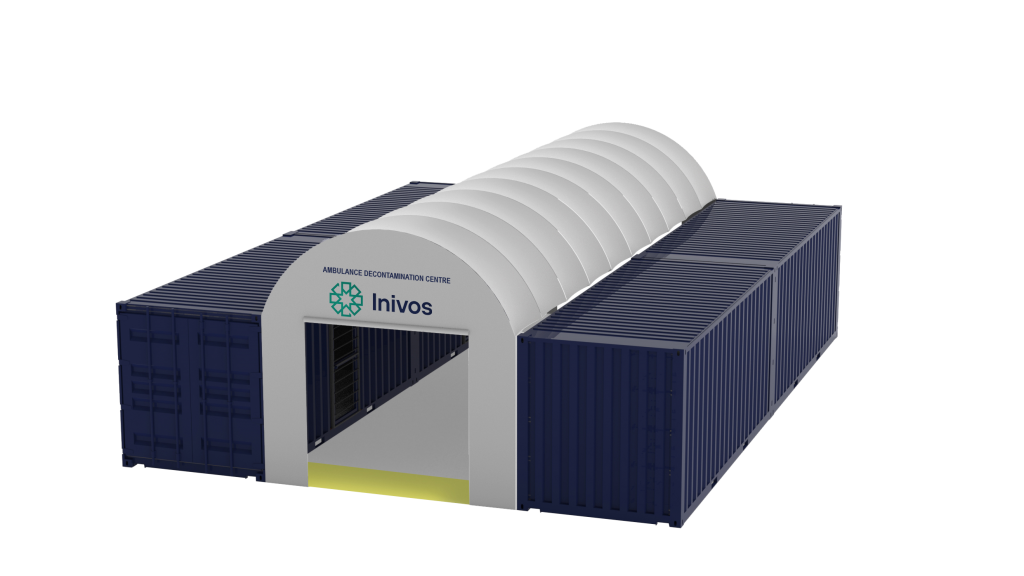 Inivos launches rapid-deployment, on-demand Ambulance Readiness Centre
Leading infection prevention and control experts, Inivos, has launched their innovative new Ambulance Readiness Centre product.
The rapid-deployment, on-demand ambulance decontamination centre is the world's first 'roll-in, roll out', on-location hygiene service, saving time for emergency responders by eliminating the need to travel off-site for vehicle cleaning.
It's one of just 12 shortlisted solutions assessed by the Rapid Sanitising Technology for Ambulances to supply decontamination to ambulances in Wales.
The Ambulance Readiness Centre is designed to be used with both hydrogen peroxide vapour (HPV) and ultraviolet-C light (UV-C) decontamination robots to reduce pathogenic micro-organisms, including SARS-CoV-2 – which causes COVID-19 – to a safe, non-infective level. These technologies are proven to break down the fat and protein outer layer of the virus, before destroying the genetic material within.
Ambulance drivers can simply drive into the Ambulance Readiness Centre, exit into a safe zone within or outside the Centre, and allow the automated decontamination robots to effectively decontaminate pathogens from the vehicle's surfaces, equipment and staff's personal protective equipment.
Using UV-C decontamination robots, known as 'Ultra-V', the Centre provides decontamination of vehicles between callouts in as little as fifteen minutes, compared to the current 45 minute wait to manually clean an ambulance after transporting a COVID-19 patient.
At the end of a shift, a terminal clean and decontamination service can be deployed using hydrogen peroxide vapour robots. Known as ProXcide, the automated technology combines a low concentration of hydrogen peroxide solution with automated validation, meaning high levels of efficacy can be achieved without the need for high concentration chemicals.
Tautvydas Karitonas, Head of Research and Development at Inivos, commented:
"It is vital that emergency vehicles are thoroughly decontaminated to stop harmful pathogens spreading to frontline workers and patients.
"A terminal clean at shift end is not enough to reduce viral transmission within ambulances. For that reason, we've created the world's first dedicated space that can be used on site."