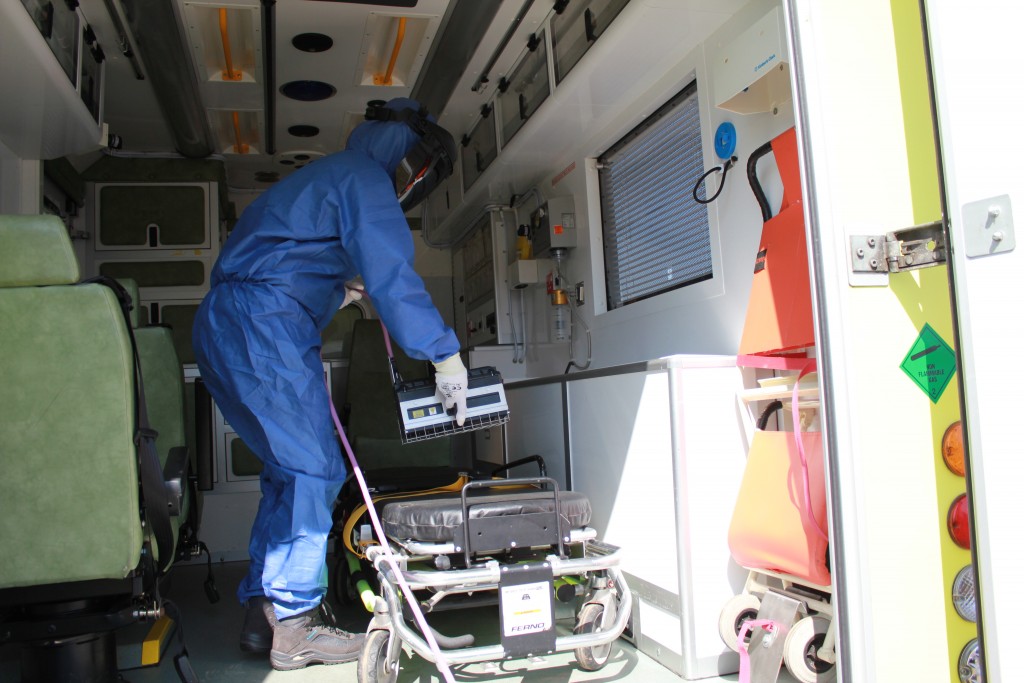 AMBULANCE SANITISING: UVC – the future now?
A hand-held ultraviolet device that can be used by crews to sanitise ambulance patient compartments is available now from British developer Integration Technology Ltd.
The adoption of UV technology is growing within solutions helping decrease the time taken to decontaminate ambulances infected by Coronavirus Covid-19.
Key objectives are ensuring vehicles can be sanitised 'on the spot', in the minimum amount of time and ready for the next patient, while reducing the risk of further Coronavirus spread.
Integration Technology's SubZero RS-170 UVC rapid sanitiser is a compact, lightweight unit designed for use on all surfaces in applications posing a high risk of public cross-contamination.
UVC specifically relates to ultraviolet light with wavelengths between 200 – 280 nanometres (nm). Light in the UVC wavelength can be used for disinfecting water, sterilizing surfaces, and destroying harmful micro-organisms in food products and in air.
The efficacy of UVC for the inactivation of viruses is well documented in research texts including Wladyslaw Kowalski's 'The Ultraviolet Germicidal Irradiation Handbook', published by Springer in 2014.
Integration Technology has validated the output of the SubZero RS-170 against published data for SARS-Cov1, which is the closest comparative virus to the Coronavirus, SARS-Cov2.
Microorganisms are either killed or inactivated by UVC light as a result of damage to nucleic acids in RNA and DNA which leaves them unable to perform cellular functions. When bacteria and viruses are exposed to short wavelength UV light, specifically UV in the UVC band, they are rendered incapable of reproducing and infecting.
"The spread of Coronavirus is accelerated by the fact that it can last on non-porous, plastic surfaces for several days," says Simon Roberts, managing director at Oxfordshire-based Integration Technology Ltd.
"After transporting a patient, it's important to be able to redeploy an ambulance used as soon as possible while protecting crews and other medical workers against further spread of the virus.
"We see clear potential in using UV technologies alongside conventional solutions like misting and deep cleaning not least as portable UV sanitising can be undertaken by crews thereby removing the need to take the ambulance to a cleaning centre."
Ambulance service operators in the USA are already using UVC fixed and portable systems for vehicle interior sanitising.
After the Ebola outbreak in 2014, Colorado operator Thompson Valley Emergency Medical Services determined UVC as the ideal solution in an upgrade of decontamination equipment should a serious outbreak of disease ever come to the state. The company currently has six UVC systems, one for each station.
Likewise, Michigan-based Mobile Medical Response (MMR) has ordered seven additional UVC units to the two already in its use. The lights are activated remotely from outside the vehicle for the crew's safety and can disinfect and sanitise the interior of an ambulance in approximately two minutes, says the company.
While these services are using ceiling-fixed lamps, Iowa operator West Des Moines EMS is adopting small, portable UV lights to disinfect ambulances. Before turning on the light, crews use sprays and wipes on the surfaces in ambulances. The UV sanitising process takes around 30 minutes, says the company.
Part of the IST-Metz group, developer Integration Technology is a Queen's Award Winner for Exports and one of the UK's leading UV light innovators.
The RS-170 offers high output 1700W input power with a high intensity reflector system. Four times more powerful than competing solutions, it significantly reduces the UV exposure time required to achieve the same results.
Easy to use and maintain, the 285 x 85 x 142mm, 3kg air-cooled unit offers rapid warm-up and cool-down, and comes with a quick-change lamp cassette for reduced downtime on site.
The unit forms part of a portfolio of portable UV sanitising and curing solutions now available for outright purchase via Integration Technology's e-commerce facility at www.portable-uv.com
Says Simon Roberts:
"Hand-held light enables manipulation to access areas of the vehicle that may be missed by fixed solutions. UV is non-contact and allows widespread coverage so you get greater and faster overall decontamination.
"Trained ambulance crews already using PPE only have to put on a visor to straightaway sanitise interiors remotely from operational bases.
Simon sums up:
"There is a clear role for technology in virus sanitisation and UVC is going to be playing a major part in it."
Further information at https://www.integrationtechnology.com/en/applications/uv-sterilization
Video on the SubZero RS-170 ambulance sanitising at
Further information from integration Technology Ltd
www.integrationtechnology.com
Tel 01869 233611
email sroberts@integrationtechnology.com